Today is November 11, 2018. One hundred years ago today, the worst war that had ever been fought ended. It was so bad that those who lived through it swore it would be the...
The latest Islamic attack by Somali Muslim Hassan Khalif Shire Ali has prompted public officials, ranging from Australian Police to Prime Minister Scott Morrison, to "call out religious extremism": While I'll assume most people will...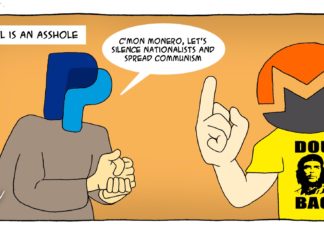 Dan Schulman, the C.E.O of PayPal, has signed off on payment processing services to the multi-ethnic Civic Nationalist Proud Boys (oh and apparently a mere three ANTIFA groups) being shutdown: Even though ANTIFA and their...
Who is the best party to vote for in the upcoming Australian federal and state elections? There are plenty of options; the three major parties the ALP, the Greens and the Liberal and National Coalition...
Last night Tucker Carlson's home was defaced with anarchist graffiti, and blasted with threatening chants of incitement to riot by far-Left domestic terrorists: https://m.youtube.com/watch?v=wVWu94JVHtk People feel like they have to shut up. That they can't say...
WARNING: THE FOLLOWING ARTICLE CONTAINS GRAPHIC CONTENT A diversity incident has occurred today in Bourke Street, Melbourne, with a truck of peace apparently bursting into flames, several people being culturally enriched - one fatally -...
Originally published at http://endtimesherald.com. After Trump's election in 2016, the left went mad. Often quite literally. Donald Trump Is Devastating Our Mental Health With His Policies and Rhetoric https://t.co/dOgDwsJriN via @TeenVogue — ICAAD (@ICAADglobal) June 25, 2018 We...
Gavin McInnes is touring Australia soon, and Kaz Ross has a long-winded piece in The Conversation telling everyone how bad he is. She also doesn't like the fact that non-Leftists exist. It's about what you'd...
Well it appears America has allowed itself to be taken in by the NPC terror group of programmed bots sent out by the elite establishment to violently attack anyone who disagrees with the mainstream...
Dick Ears Daniel Andrews has signed a Memorandum of Understanding with the Chinese government to get Victoria in on some Chinese money: "Victoria has formally pledged to sign up to China's controversial One Belt, One...
The election of Donald Trump was a crucial moment in US history. The regressive left has been pushing America steadily toward communism through its takeover of institutions, the judicial branch of government, government departments,...
The Anti-Defamation League (ADL) has today revised their headlines from "Gab is Gone. Where Will Extremists Go Next?" to Gab Was Down For a Week, Forcing Extremists to Consider Their Alternatives: Our edgiest "extremist" compatriot...
David Hiscox and Matty's Modern Life briefly summarised some of the major news this week: The spread of the #ItsOkayToBeWhite meme is becoming another choice way of triggering leftists in Australia and America. Gab...
The Democrat Party "Kill All White People" activist collective and their operatives in the legacy media, have been posing this question in the media today: This has prompted some passive /pol/ pamphleteers to remind the...
Originally published March 15, 2017. Many on the left have only recently become exposed to the 'alt' ideas of the various components of the anti-establishment movement. It's like they woke up one day during the...
"Rome will lose the faith and become the seat of the Anti-Christ... the Church will be in eclipse and the world in dismay". The Blessed Virgin Mary to the shepherd children of La Salette – Melanie...
I can hear the thirty year old Boomers now. "But they're God's chosen people!" "Jesus was a Jew, you Nazi!" "Judaism is based on the Torah, and that's the same Bible as us!" "God promised the land to...
SHY being a complete flog and taking offense for the sake of offense. What a waste of flesh and bones: This sign was posted outside my office in Adelaide this morning. What a disgrace. The...
The Labour Theory of Value serves as the base for all far-Left, Marxist, economic belief; however it is completely debunked by the Subjective Theory of Value and its own logical flaws. In this video I...
On the 2nd of October 2018 Jamal Khashoggi, a Saudi Journalist and confirmed critic of the Saudi Arabian government walked into the Saudi consulate in Istanbul in order to collect papers confirming his divorce...