The Wong side of history is steeped in immoral mystery. Please read on, I'm sure you'll agree; How is it that a lying lezzo dim sim, Who is not manufactured in Aussie trim, Can ascend our political tree? And...
Australian Protectionist Party The appointment of a new ministry reveals a lot about a newly-elected Prime Minister. As the PM who won (what many pundits were claiming to be an unwinnable election for the Liberal-National...
YouTube recently ramped up their censorship policies, they removed millions of videos, removed thousands of accounts and demonetised thousands more. Meanwhile anyone outside the mainstream media has their videos suppressed and hidden by the algorithm. This...
If you're reading this, you're probably a terrorist. At least, according to the ABC. Sounds pretty alarming. 'Neo-Nazi', 'extremism', 'experts', a 'warning to Australia'. Wew lads. That's a word storm of button-pushers right there. Put down that...
It is a remarkable irony that at the same time that their heavily-lawyered ABC are hyperventilating about supposed threats to press freedom, the freedom of the alternative press is currently being decimated. YouTube had until recently been...
Compatriots in my network have been suggesting alternative platforms following the YouTube purge over these last couple days. While I've had my BitChute channel up for a while now, Cocoscope and JoshWhoTV have come on...
If you have a look at the top of my home page you will see a little button that you can click that will take you to my personal beliefs and opinions. I know,...
Back in June of 2017, my YouTube channel (which had a couple of thousand subscribers) was shut-down for "multiple or severe violations of YouTube's policy prohibiting hate speech". Hence you can imagine my bemusement at...
The SPLC wouldn't be good propagandists if they weren't also experts in the art of gaslighting. For decades, the parasites told us that we would become minorities in our own countries, they bragged about it. Now...
The Satanic globopedo pyramid of power is real fam. A prominent tech reporter was charged by the FBI in connection with attempting to solicit sex with minors, according to a report https://t.co/2EdCCrMw9f — Business Insider (@businessinsider)...
The VoxAdpocalypse is here and YouTube are removing content all over the place, people are being mass demonetised, they are removing videos and even entire channels! Vox activist Carlos Maza must be very proud of...
Apparently the best way to sustain your brand is to deeply insult your most loyal fanbase. On this logic the AFL is bound for glory. A few years ago a middle range footballer who told...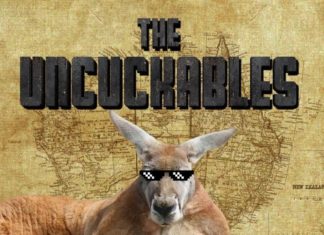 On Thursday night Australian Meditations, who has recently had his channel removed from YouTube, joined The XYZ's David Hiscox and Tim Wilms from the Unshackled on The Uncuckables. We took great mirth at the...
Before accused Christchurch shooter, Brentan Tarrant, opened fire on foreign Ramadan Worshipers way back in March he did something increasingly common these days. He wrote a manifesto. It this he stated his aims very clearly, some...
The Australian Women's Soccer team demands more money ahead of the 2019 Women's World Cup, saying they want pay equality with the men's team. Is it a valid request that stacks up economically or is...
This piece is kinda long, so here's the takeaway for you high time preference Zoomers so you can get back to whatever degenerate computer game you're playing rn: 52 years ago today, on June 8,...
Rugby Australia is about to find out that anti-Christian bigotry comes at a cost. $10 million dollars to be precise. From news.com: Dumped rugby star Israel Folau will assert his dismissal cost him the chance to...
Hands up if you're shocked that Waleed Aly isn't happy about the Australian Federal Police (AFP) raiding the ABC. What's that, not a sane soul with a three digit IQ is prepared to raise...
Well it looks like Anti-Defamation League (ADL) CEO Jonathan Greenblatt is wringing his hands at the moment, as his "Jewish anti-hate organisation" has managed to get Volkswagen to fund an ADL office in Germany: From...
Stefan Molyneux is a world famous writer, philosopher and content creator, he rarely makes mistakes but on this occasion, he's made a big one. https://m.youtube.com/watch?v=50Br1lOh7xU You can visit MattysModernLife at Minds, Patreon, BitChute and Gab.