The looming disaster in South Africa may appear to have come from nowhere, but it the fruit of a decades long Marxist plan. David Hilton elaborates. https://m.youtube.com/watch?v=PEtLBxGUG5U To sign petitions urging government action to help white South...
Sadiq Khan recently gave a speech where he whined and moaned about "hate-speech" and decried a number of "mean-tweets" he'd received. It was full of the usual snob-nosed sycophant drivel you'd expect from a...
The history of South Africa is complicated and marred with the legacy of racism and inequality. This is a sad reality, uncomfortable to many, but one which needs to be acknowledged before any reasonable...
In today's humourless world, the ABC this week provided a tiny glimpse into what it could offer viewers if only it were able to stop drinking from the poisoned cup of political correctness and...
Matty is calling on everyone to stand up for freedom of speech. Enough is enough, the governments of the West have sold us out it's time to stand up for what we believe in! https://m.youtube.com/watch?v=jyuD7S4WnrI&feature=youtu.be You can...
During the course of my short career as a commentator, I've wrestled with the questions of what makes a progressive think the way they do, and how do progressive ideas spread through the culture...
If you're a millennial like me, then growing up you were taught that Nelson Mandela was a bit of a secular saint. Pictures of his aged smiling face were plastered over the walls of...
State School Spy Here is the latest offering from our State School Spy. The picture was taken on March 13, 2018, and it was placed in a kitchen at a state school. SSS has this...
This article was originally published on July 7, 2017. We couldn't resist the urge for an encore... Ask the ordinary man on the street who has little interest in the world outside his own...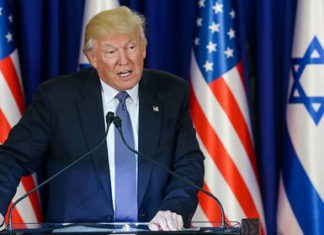 This is the first in a three-part series on Zionism written from a Biblical Christian perspective. 'For we do not wrestle against flesh and blood, but against principalities, against powers, against the rulers of...
Trump's steel tariffs are sending the world's bow-tie brigade into total meltdown. Free trade is their Gospel and anything that challenges it is literally worse than Hitler. The globalists have been ramming free trade...
The wheels fell off the kart And all the children, they could see To get the damn thing going again Reattaching them was the key. So, they went and asked the Greens To help them fix their bender, But the...
Ever wonder why it doesn't seem to matter who's in power, things always keep moving in the same direction? Ever stop to ask yourself why, after the supposedly "social conservative" John Howard had been in...
In the 1960's, communists used the pretext of "racism" (a word invented by Marxists to convince white people to kill themselves) to institute sporting and economic boycotts against apartheid South Africa, a key bulwark...
Arthur Dane When the British ruled India, they looked harshly upon the practice of "sati" or burning the widow alive on the funeral pyre of her deceased husband. When one British overseer by the name...
Topics covered in tonight's livestream include: Britain's continued descent into tyranny with the detaining and refusal of entry to Martin Sellner and Brittany Pettibone Why it is ok to embrace identity politics with regards...
Train stations in London have been shut down due to protests by one group of people from the Middle East complaining about another group of people from the Middle East: "Services at London's King's Cross...
Sam Vimes XYZ published a piece last week decrying the false reporting, the refugee industry and crisis-driven guilt that the average Westerner is saddled with almost weekly. It's a topic that I've had in the...
Wow Alex Jones is really screwed. According to the Huffington Post, if you call someone a globalist in the current year, you're an anti-Semitic alt-right Nazi white supremacist bigot reeeeeeeeeeeee. Honestly. There are a whole bunch of...
The other day I heard Saint-Säen's Danse Macabre on the radio while driving to work. https://www.youtube.com/watch?v=rL0oumU3kPo It is the 'dance of death'. If you watch this video, you'll see art from the Middle Ages that depicts...