From the University who proudly stood by Prof. Priyamvada "White Lives Don't Matter" Gopal comes another astounding mind-bending journey into derangement. From METRO Artificial intelligence (AI) has a 'whiteness' that stops humanity associating people of colour...
Poor Russian lady can't breathe. Dramatic footage of a Melbourne woman being arrested for allegedly breaching COVID rules has surfaced online. In the video, her daughter can be heard screaming "she's in pain" before arguing...
Readers might have noticed it's been getting more explosive in Beirut at the moment… Some people (myself included) think it's a certain group of terrorists with Tay-Sachs disease, and if you think we're being paranoid...
Even before the Chinese Diversity Flu hit, Australia was not a free country. Melbourne has the diversity, and the diversity flu, now we really do have the China. From 7news: Essential workers in Melbourne will now...
In his most blatant power grab yet, Premier Dick Ears Dan Andrews has locked down the state of Victoria. This includes placing Melbourne under house arrest, and forcing us to wear pieces of paper...
The next stage of prog left insanity is to gut yet another institution and wear its skin while demanding respect, and that institution would be the suburbs. The Democrats cunning plan is to take...
Melbourne is in Stage 4 Lockdown. We are essentially in an open air prison and the Victorian government is deliberately collapsing the economy. As David Hilton has pointed out today this is part of...
So now Melbourne's grounded again. In the old times, I would've made a joke about that. Something about the sex shops being outraged that primary schools will stop buying supplies from them, or about...
After announcing yesterday that all Victorians will be moved to death camps, Victorian Premier Daniel Andrews has made another stunning and brave announcement which should help bring unprecedented levels of accessibility to his administration....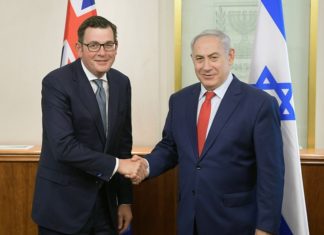 Victorian Premier Daniel Andrews has announced that Melbourne will move to stage 4 coronavirus restrictions and to a state of disaster from 6:00 pm tonight. Residents of Metropolitan Melbourne are not allowed to travel...
Revolutions tend to be triggered when the peasants get hungry. Remember the whole "let them eat cake" thing? So, how do you quash a revolution? Napoleon turned cannons on Royalists. The Venezuelan communist regime uses...
After a little toing and froing David Hiscox returned to The Uncuckables on Thursday evening. The panel discussed the increasing authoritarianism of the Victorian government as it appears to lead the world in establishing...
I heard a rumour. Could be nothing. From 7 News: Cedar Meats, the business a the centre of Victoria's original coronavirus outbreak, is back in lockdown after a worker tested positive to coronavirus. The Brooklyn-based meatworks confirmed...
We're experiencing levels of Jewry that shouldn't be possible these days. Clown-word has transitioned from "Looting stores and burning buildings isn't looting, it's protesting" to "It's okay to steal from local businesses, it's for...
Practically every Traditionalist started their political life as a Conservative. But what we come to understand is that the term Conservative is a confusing one as it has multiple meanings. 1. It is an outlook,...
The reason why Trump has an abysmal approval rating among White working-class voters, whilst there is a 71 percent approval rating coming out of Israel for him, is by no means a coincidence. Hunter Wallace...
In the old World War 2 classic The Dambusters there is a dog with a very curious name. https://www.youtube.com/watch?v=QgePEO7GUtE This has absolutely nothing to do with the following story. From Zero Hedge: Concerns are rising that China's Three Gorges Dam,...
White people of varying ethnicities in Australia have been targeted by the media and political figures over the last fortnight for questioning and refusing to comply with the government's attempts to lock us all...
Lets start with my journey. In the late 1980's, when I was in my late teens, I was a Conservative. I rejected Feminism and Immigration, but I accepted a lot of mainstream ideas. But I...
On Monday night Matty and David analysed the increasingly authoritarian approach of the Daniel Andrews government in handling the Chinese Diversity Flu epidemic. We also poked our usual fun at the MSM and the anti-white...