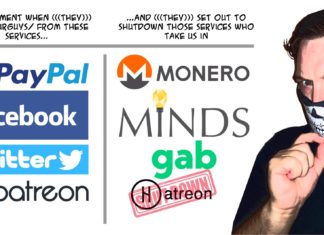 Whether it be handing out joints from a stage to a crowd of stoners on April 20th or IRL protesting of government enforced multiculturalism, I've not shied away from acts of civil disobedience in...
It's official. According to the far-Left, a "neo-Nazi" is anyone they really don't like a lot. Not that we didn't already know this, but now they aren't even hiding their bigotry. Due to boredom, and the...
Australia's housing bubble is on the verge of going pop. The housing bubble is based on a few factors, namely an immigration Ponzi scheme, the market distortion created by the Reserve Bank manipulating interest...
When followers of the two most deadly ideologies on the planet square off, you know what to do: Communist China is sending its Muslim Uighurs to reeducation camps. From the Sydney Morning Hurl: The security agents...
Our world is ruled by cosmopolitan globalists who have deliberately destroyed our cultural heritage, along with all sense of meaning, beauty and morality, in order to create a system which allows them to satiate...
When I am asked by younger guys for suggestions to help them resolve problems that they are experiencing, one of the most common issues that inevitably comes up is the horribly self-defeating practice of...
The 2018 Victorian election is nearly here and we need to discuss Premier Daniel Andrews, easily the worst Premier in living memory. There are so many reasons to not vote for him that it would...
I have a confession to make. I don't want to, but it's always best to face your sins, acknowledge them and repent before God. In public, if necessary. So here goes. Sometimes I watch Netflix. Yeah I know....
Earlier this week the lying legacy globalist media was kvetching over an Atari-style computer game called Angry Goy II, which is currently being marketed to "White males who have had it with bullshit": Pro-White political...
Former Human Rights commissioner Tim "The Soup Man" Soutphommasane has made statements that support the "alt-right." In a recent XYZ livestream David Hiscox and I discussed this interesting turn of events. David had some great points...
Antifa are like a toddler having a bad day. They push, and push, and push, and get away with it, then think they can get away with anything. Until eventually, they get a smack In this...
'Andy Fleming' (aka Slackbastard, aka "a closet homosexual failed librarian") who's social media and blog disappeared late last month, had this to say recently about the dissident Right journalism in Australia: To quote from Appendix...
The first response of the conservative right every time one of these poor dindu nuffin mental health victims goes all Allah Snackbar in a Sydney or Melbourne street is to wonder how stupid our...
Topics covered in last night's livestream: The Bourke Street Diversity Incident and Prime Minister Scott Morrison's naming of Islamic terrorism as the culprit. Dick Ears Dan Andrews selling out Victoria to communist China by...
In the wake of the Bourke Street diversity incident on Friday, Scott Morrison has acknowledged the bleeding obvious - Islam is a barbaric, foreign religion which has no place in society. Well, not quite, but...
Today is the 100th anniversary of the end of The Great War. In just a few hours it will be 11am here in Holland which will be the exact time that the guns fell...
Today is November 11, 2018. One hundred years ago today, the worst war that had ever been fought ended. It was so bad that those who lived through it swore it would be the...
The latest Islamic attack by Somali Muslim Hassan Khalif Shire Ali has prompted public officials, ranging from Australian Police to Prime Minister Scott Morrison, to "call out religious extremism": While I'll assume most people will...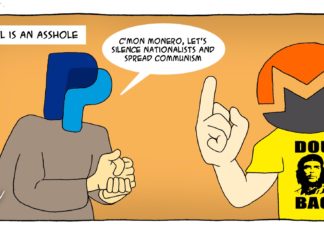 Dan Schulman, the C.E.O of PayPal, has signed off on payment processing services to the multi-ethnic Civic Nationalist Proud Boys (oh and apparently a mere three ANTIFA groups) being shutdown: Even though ANTIFA and their...
Who is the best party to vote for in the upcoming Australian federal and state elections? There are plenty of options; the three major parties the ALP, the Greens and the Liberal and National Coalition...