From The Australian this morning: "Air quality has plunged, Sydney is choking on smoke, buildings have been evacuated and 'false' smoke alarms have sounded across the city. The bushfire crisis gripping NSW is building with...
Scandal has stuck the British Labour Party barely days out from the general election, with revelations of the deep anti-semitism which infests this vile political party. Just so everybody understood how vile these evil...
People with a pathological hatred of gentiles take great offense to people questioning the veracity of the official holocaust narrative, which continue to be propped up by quisling Zionist governments around the world. Hence the...
No matter what your political beliefs are, if you went to a party and you met a man who worked and his wife who stayed at home and looked after their children you wouldn't...
The establishment media reported yesterday that Chinese fishing vessels in the South China Sea used handheld lasers to blind Aussie navy pilots operating in the region during the Indo-Pacific Endeavour 2019 exercises held earlier...
Probably Matty's most outrageous video yet. Let us know what you think. https://m.youtube.com/watch?v=lww0sQbUK0o You can follow Matty's Modern Life at RationalRiseTV, Minds, Gab, BitChute, Dtube, MeWe, Telegram, JoshWhoTV, Parler and Canund.
This is a somewhat depressing post from Dalrock, an unwelcome reminder that as far as feminism goes the rot truly has set in very deep indeed. There is an exercise bike brand that has...
On Thursday night, the Dusty Bogan joined David Hiscox of The XYZ and Tim Wilms of the Unshackled. We discussed the disgusting new KFC ad, and Israel Folau taking Rugby Australia to the cleaners...
Having watched Matty's interview, done a revision of Propertarianism, and spent time in thought and reflection, I can say with honesty that I am ultimately willing to change my mind because I am not...
The signs are there that the wheels are beginning to fall off the great climate change fraud. Fresh from her stint scolding the world at the UN, teenage Swedish socialist sensation Greta, (surely a...
V for Vendetta is a dog of a movie. Terrible script, massive plot holes, and not even the veneer of artistic pretence to disguise the bald faced socialism of its politics. Worst of all, Padme...
Mike Rusade We all know what's wrong with the world. We need to get back on our feet, pull our collective heads in, and start offering alternatives to everything. The revival of traditional thought among...
Subsidiaries of B'nai B'rith and the World Jewish Congress have become the representative anti-Western antagonists seeking to sacrifice White Europeans as a burnt offering to their demonic deity Moloch. They believe that those who don't...
The Sun has acknowledged what The XYZ has been reporting for several months: The fact that Jeffrey Epstein and Ghislaine Maxwell were Israeli spies who ran a blackmail extortion ring for Mossad. From the Sun: GHISLAINE...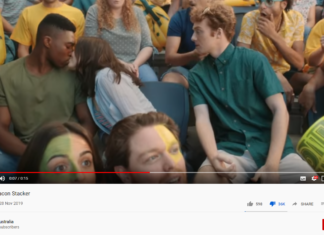 One of the things the left love to warn us about is the danger of racism. Students in classrooms and lecture halls across the country have for decades been bombarded with historical pictures of mistreatment...
ECAJ just recently released another list of people and viewpoints they hate, they call it "anti-Semitism" but we all know this is just Jewish Supremacist for "shut it down!" Guess who has two whole pages...
The most important rule in any philosophical debate is very simple: if you cannot argue both sides, you cannot argue either. Another way to put it is if you do not understand what you...
A common turn of phrase that has marked the support test for globalist newspeak has been the flippant use of "Conspiracy theorist" in an unironic fashion. Whether it be the lying scumbags in the...
Whenever a Western leader states that "diversity is our strength" after a diversity incident in a Western city, that message is not directed toward the terrorist, or the religion and/or ethnicity from which the...
The National Australia Bank's Independent Schools Survey was released this week and it found that: "Girls were doing old-fashioned "housewife" chores to earn their pocket money." When will parents learn that 'women's' work is not okay! Cleaning,...