Topics discussed: Joker. Extinction Rebellion. Box Hill Police Station treachery. PPP. Fuck the Kurds. Trump impeachment trap. How Hollywood's glorification of nerds and demonisation of jocks is actually a Jewish psy-op designed to subvert...
Once you understand and fully internalise the truth that all media is simply advertising, it becomes a process of gradual illumination as you step from reading between the lines to reading the inherent truth...
Here is an interview Matty's Modern Life conducted with E. Michael Jones a couple of weeks ago. They discussed Jews, Homosexuals, Christianity and Ethnic Nationalism. Naturally, neither of them held back. Follow the link to watch...
Editor: Originally published October 1, 2019. There will be a March for the Babies today, Saturday October 12 in Melbourne. It starts at the Treasury Gardens at 1pm, and you can find details here....
I'm often fairly open about my cognitive condition (epilepsy) and psychiatric disorder (epileptic psychosis). I make it an overt point for certain people to exploit, as was similarly attempted with Commander George Lincoln Rockwell,...
Back in the 80's, Saddam Hussein gassed the Kurds (apparently) and we all felt sorry for them. Then during Iraq War 1 George HW Bush said something vaguely resembling a call to arms, the...
The Climate Cultists over at The Con are going hard pushing the word of The Science to their fawning and adoring acolytes of doom. Ever since they declared themselves a heresy free zone and...
I ain't gonna lie. Joker was good. Especially the bit where he blew Robert de Niro's head off at the end. Oops, spoilers. Sorry. But that line: "What do you get when you cross a mentally ill loner with...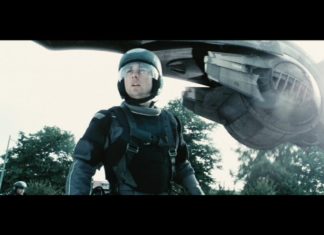 Victorian coppers used to look pretty cool, back in the 1890's. Even in the 1990's they looked respectable. In the current year, well, just shoot me.. But progress is coming. Any day now, it's going to be...
While searching yesterday for a picture of a lunatic member of Extinction Rebellion I was given a reminder of how these lunatics think. The piece written by Gurmeet Singh for Fair Planet was titled...
Main topics: Lunatic Extinction Rebellion idiots have a cunning plan which will surely make them heaps of friends - block traffic all over the world! Devon Stack of Blackpilled has made the point in...
This article is the second in a series covering lesser-known aspects of Judaism. It doesn't take a political genius to see that we've got a profoundly damaging clash of values going on in our civilisation...
Following on from last month's motif, I went to see Todd Philips' Joker on opening night with my brother and was blown away by the film (pun intended)! Joker in two phrases: "You get what you...
Recently Box Hill Police Station raised the flag of the Chinese Communist Party, this included a flag raising ceremony. Many in the community responded with anger, but the issue largely went unreported by the...
Neo-conservative homosexual Douglas Murray is somewhat upset that the leading homo magazines have struck him off the poofter list and declared him to be non-gay for daring to not go along with the latest...
Topics discussed: Antifa have another killer in their ranks. Box Hill Police Station raises the communist flag. Kyle Sandilands apologises for Virgin Mary blasphemy. The deep state moves against Donald Trump. And of course, PPP. https://m.youtube.com/watch?v=9Nb2DP_AbKk
For as long as I can remember Australian policy makers have been trying to push migrants to the bush. I used to keep saying it will never happen but given the lengths the communist...
Originally published November 3, 2018. This month marks one year since Jamal Khashoggi was murdered. It is worth reviewing the case. On the 2nd of October 2018 Jamal Khashoggi, a Saudi Journalist and confirmed critic...
WARNING: This article contains graphic content. People's heads have exploded this week as fat degenerate KIIS FM radio host Kyle Sandilands has actually been forced to apologise for blaspheming against the Virgin Mary. From news.com: Kyle Sandilands...