It has been a few days since the NPC ABC released its a report, with the unintentionally hilarious title Haircuts and Hatred, into the supposed "inflitration" of so-called "conservative" political parties in Australia by...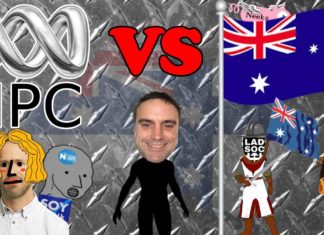 Radio National, The Australian Broadcasting Corporation (ABC Australia) and "journalist" Alex Mann have once again produced a piece of propaganda designed for the sole purpose of slandering Australia's rising Nationalist populist movement. They especially took...
This article was originally published at https://pushingrubberdownhill.com/ on 16/10/18, where Adam Piggott publishes regularly and brilliantly. You can purchase Adam's books here. Australia's last economic recession was officially way back in 1991. I say officially because...
Murdoch Murdoch published their latest video on October 15. It lampoons the Democrat advertising slogan Change that Matters with their usual dark humour. Very dark. https://m.youtube.com/watch?v=Q96mTTC7jm4
Howdy earth dwellers, I'm Widget the White watcher. Today we'll be exploring what it's like to be a White person living in a "White Supremacist" nation. Firstly, Whites ostensibly have to pull 'an Elizabeth Warren'...
They don't want you to have a say on immigration. They never wanted you to have a say on immigration. They want you gone: "Senator Anning's motion was condemned as "racist" and "xenophobic" in Parliament today...
I have written about post-wall sex author and self-confessed drunk Nikki Gemmell before, as in the time where she attempted to make the claim that 'beta blokes are better'. The crux of that piece...
Those keeping up to date with Siege culture have probably read James Mason's article A Communist Defeat where he writes: "I'm saying now: JOIN THE REPUBLICAN PARTY. Echoing the "Lone Wolf" strategy. Infiltrate. "You will sacrifice...
Originally published at www.endtimesherald.com Babies are so annoying. All they do is cry, sleep, eat, shit and vomit. You spend a year or two unable to get a good night's sleep. They steal your youth, your...
Remember that time the elites of Australia decided they wanted to drastically alter the demography of Australia by importing hundreds of thousands of people every year from Asia, the Middle East and Africa, but...
As everybody knows, if you make a sign with your hands with your pinky, ring finger and middle finger outstretched, making a W, and your index and thumb making a circle, making the head...
Have you been sent to the Goolag? Have you been Israeled from social media? Do you understand the underlying coincidence to the enemy of Whiteness? Do you stand with Hans Hermann Hoppe on the ANTIFA question? Are...
David Hilton reported on the hysterics triggered on the left by Pauline Hanson's motion to the Senate that It's Ok to be White. Since then, even Australia's so-called "conservative" government has attempted to backpedal,...
Islamodacity Senators Richard Di Natale and Derryn Hinch will be joining forces to sue global giant Unilever over its OMO washing detergent, because it makes clothes too White. Di Natale said that OMO has become the...
What does conservatism stand for in Australia? It is a question that I ask myself more and more as we slide into an endless morass of adopting the modern obsessions of the left at...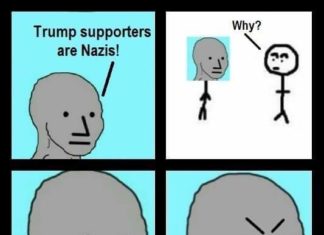 Australian Meditations joined us for this livestream, in which we analysed the ABC's hilarious attempt at a hit piece against Australian nationalists: Background Briefing: Haircuts and Hatred. Also discussed were the latest chapter of Big...
Originally published at www.endtimesherald.com I can remember when, as an Ipswich schoolboy, our Pauline burst on the scene in 1996 with her epic maiden speech to parliament. https://www.youtube.com/watch?v=6HAbWm0Tr4Q Aborigines get too much welfare, there's reverse-racism against whites...
Originally published at www.endtimesherald.com Remember when you were in primary school, and you dropped stuff off balconies and the bag racks, and the teacher told you about the theory of gravity. Or in high school, when...
This is my vlog of the 2018 Melbourne March for the Babies, a right to life rally demonstrating for the right of unborn babies to have their own life. The crowd numbered several hundred. ...
Molly McKew, the morbidly obese Neo-Con Trotskyite Yenta The Hutt, who has worked as a Lobbyist for the Podesta Group, last week branded Kavanaugh supporters "Information Terrorists": She prefers the pronoun "Information Warfare Expert", however...