Topics discussed: Alex Mannlet's shoddy journalism. The Notre Dame Fire. Bill Shorten's gaffs and Gladys Liu's cuck. The latest on Julian Assange and Israel Folau. Plus, watch to the end and see one of the...
The ABC and all mainstream media has done a fantastic job of consistently misrepresenting anyone who is not anti-white. You would think that a public organisation funded to the tune of 1 billion tax...
A Jehovah's Witness came to our door last week. Big mistake. One thing our friendly neighbourhood JW said though before he ran away stuck with me: How can we evangelical Christians live and participate in the...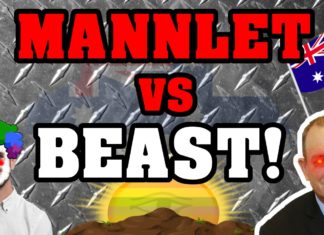 ABC "Journalist" and Anti-Nationalist Alex Mann has made a name for himself by taking on the Patriot movement. He will use any tenuous link to smear those with whom he disagrees. Now he's written a...
This article was originally published on Thursday 18/4/2019 at https://pushingrubberdownhill.com/, where Adam Piggott publishes regularly and brilliantly. You can purchase Adam's books here. Tomorrow is Good Friday, the day that Christ died to save us from...
Melbourne University Academic Ghassan Hage recently produced a piece for The Guardian in which he labels legitimate concerns about European heritage and nations as just "colonialism." He is essentially saying that it's "colonialism" for European...
In bad times, you find out who your friends are. And your enemies. A brief summary of who is responding to the tragic Notre Dame fire with 'smiley faces' on Facebook. Appalling. pic.twitter.com/OBANPl9Wpv — Paul Joseph...
The ABC continues to do the work lazy nationalists who would rather play piano; find all our friends. Now with one easy DuckDuckGo search, I know the names of all the people I would...
The Western Marxist establishment sure aren't giving up on their race war schemes. CBS 'The Good Fight' Incites Violence with Video; Additional Tweets Instruct to Assassinate President Trump https://t.co/QFR4ygekXy — Mike Cernovich (@Cernovich) April 14, 2019 This...
Eggboi Rhapsody. (A soaring roller coaster ride of hot soy and blown yolk!) Part the First: A Cowardly Act. There once was a boy who ate much soy, His name was Master Eggboi. He got rather cut When he...
John Mark has a fantastic channel that discusses the future of the Western World, focusing more on the United States, and a new idea called Propertarianism. I sat down with him to have a long...
Israel Folau is an Australian rugby union player; he is also the best player in the country. He was expected to be the star player and crucial to Australia's success in this year's rugby...
On Monday night's livestream, we discussed the possibility that the Israel Folau witch-hunt could spread to the AFL, with Gary Ablett liking that Instagram post. It is heartening to see some big name footballers...
Assange is ostensibly the archetypal target of the ruthless, reptilian, globalist, cosmopolitan, transnational, parasitic, coastal, urbanite, infanticidal Satanists who want us all enslaved to their empire of deceit and decadence. Seeing the Democratic Socialist (cough...
This week I received an email from a reader which I responded to and to which she then replied. The emails were respectful and thoughtful, and I appreciated them. In her second email she...
Here is the Uncuckables show from Thursday night. Topics covered: Goofy vegans, the Melbourne vegan protest and misplaced white guilt. The NRL's backlash over Israel Folau's completely uncontroversial comments on sin and consequence. The...
2019 is seeing a big escalation in the Culture War. As the National Populist movement grows across the West the bureaucratic parasite class are desperate to stamp it out. They cannot argue against our...
Victoria Police issued Will "Eggboy" Connolly an official caution for hitting elder statesman and elected Senator Fraser Anning in the back of the head with an Egg. Other people did not escape with a caution;...
A consistent theme here at your XYZ is pointing out how the cancerous system is cracking down on White Nationalism. Those who've followed this week's U.S. Congressional hearing on "Hate Crimes and White Nationalism"...
At the beginning of the last century, the globalist elite figured out a way to take over the world. Manipulate white European countries into launching into full scale war against each other, then blame it...