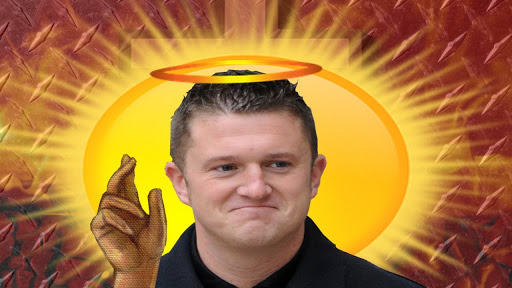 Tommy Robinson has survived his time in prison and has been released on bail.
We'll leave the honours to Breitbart:
"The British Court of Appeal has released street organiser and citizen journalist Tommy Robinson from prison on bail, pending a fresh hearing over his contempt of court charge.
"Lord Chief Justice Lord Burnett quashed the contempt of court conviction handed to the former English Defence League leader in May, which saw the activist going from arrest to trial, and to prison in just five hours and under a blanket of enforced media silence."
Tommy Robinson's release sparked jubilation amongst supporters outside the Royal Courts of Justice, who chanted Tommy Tommy Tommy Tommy Robinson!" and "He's Coming Home!"  His release was opposed by openly socialist bigots from far-left group United Against Fascism.
Tommy has released a video thanking his supporters:
There had been fears that Robinson's outspoken opposition to the Islamisation of Great Britain would make him a target in a prison system containing a disproportionately high number of Muslims, particularly given that another activist, Kevin Crehan, who was jailed for leaving a bacon sandwich outside a Bristol mosque, died in prison in 2016. There had also been fears that this was the whole point.
"The court's written judgement stated the speed with which the original conviction was made "gave rise to unfairness", and that there was a "lack of clarity" over evidence for the charge of contempt given to Robinson."
You don't say.. Tommy's arrest had all the hallmarks of a Soviet-style political arrest. The XYZ half expects Tommy to break down in tears in several days as he finally realises that he loves Big Sister, followed by his re-arrest and a show trial in which he openly confesses to all charges.
"Further, the document states the original judge should have resisted "the temptation" to rule on Robinson's behaviour there and then, as after he had offered to delete the video he created from Facebook the "urgency went out of the matter". Instead, the judge should have referred the matter to the Attorney General rather than acting immediately….
"Following the hearing, it was claimed by Robinson's lawyers that the judge who served the first sentence in May was in such haste to pass his judgement, he didn't even take time to watch the full video created outside the court, which was the basis for the prosecution."
They didn't even look at the video.
All references to 1984 aside, Tommy Robinson's arrest does indeed had every appearance of a Soviet-style political arrest. They literally could not wait to put him behind bars and hide him away from sight in the vain hope that they could make him disappear. Thankfully, some small sense of justice still exists in England as this haste appears to have been a factor in securing a release, for now.
Mind you, his release also appears to be political.  His arrest sparked protests at home and across the globe.
The British elite know they have a revolution on their hands: